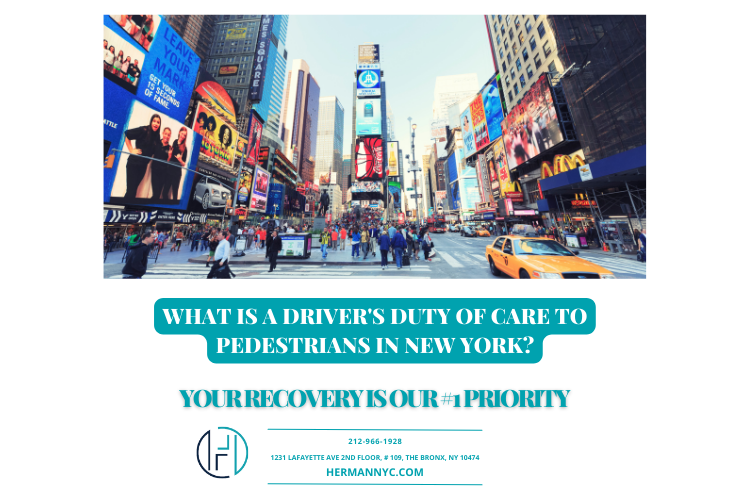 Drivers in New York have a legal duty to drive safely and make roads safer for pedestrians. Those who fail to do so can face negligence charges and serious consequences.
Drivers in the United States are responsible for making the roads as safe for pedestrians as possible by driving safely. This legal responsibility is known as a "duty of care" to pedestrians. Drivers who fail to meet their duty of care may face negligence charges. In this short article, Glenn and Robin Herman, personal injury attorneys in New York, explain drivers' duty of care to pedestrians.
Your right to drive a vehicle comes with the responsibility of driving that vehicle safely. All drivers are expected to do the following at a minimum:
1. Follow all traffic laws and regulations in New York State.
2. Drive with caution.
3. To the best of their ability, avoid injuring others.
The definition of duty of care may appear ambiguous, so it is best to look at the inverse of duty of care, negligence, to understand what drivers are responsible for.
Most traffic accidents are caused by negligent behavior in one form or another. Negligent driving can result in serious injuries and even death for all parties involved.
If you have been involved in a traffic accident, negligence was likely involved in some way. Contact New York City personal injury attorneys Glenn & Robin Herman with experience handling traffic accidents to discuss your compensation options.
Source: What is a Driver's Duty of Care to Pedestrians Under New York Law? Driver Negligence Explained
Media Contact
R. William
1-845-444-2442

Source: Herman & Herman, P.C
Release ID: 556347