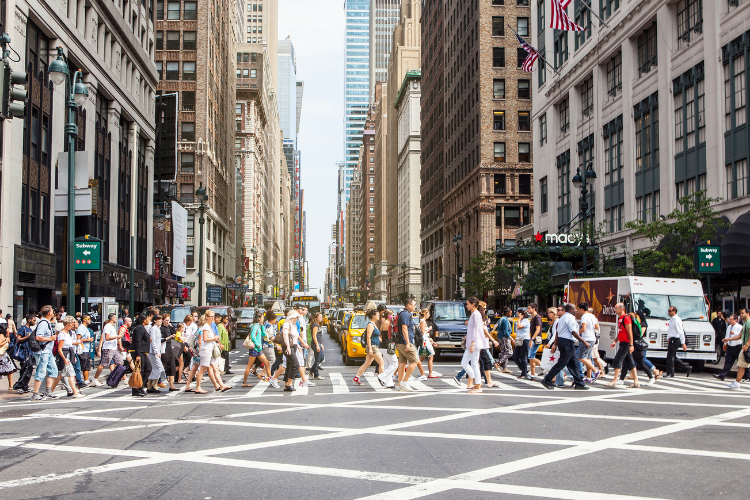 This new law will go a long way in preventing injuries to pedestrians and even to cyclists who are often also injured when there is a collision with a pedestrian
New NYC Law Requires All Drivers Cyclists to Stop for Pedestrians, Mayor Pledges to Make Roads Safer — Insight from NYC Personal Injury Attorney Glenn Herman
A new law in New York City requires all vehicles and bicycles to stop for pedestrians, even when there is no stoplight, stop sign, or other posted traffic sign indicating that the pedestrian has right of way.
Though the existing legislation (Section 4-04 of Chapter 4 of Title 34 of the Rules of the City of New York) already contained a subsection to protect pedestrians within crosswalks from oncoming traffic, the language was amended to further ensure the safety of pedestrians on New York roads.
Firstly, the law has been broadened to apply to cyclists (including e-bike riders) instead of just drivers of cars and trucks. Furthermore, the law repeatedly stresses that drivers and cyclists must come to a complete stop until the pedestrian is safely on the other side of the road before continuing, whereas the law had previously just required cars to "yield."
In just the first half of 2021, there were 398 traffic-related deaths across New York, showing a consistent upward trend since 2020 and 2019. In an announcement earlier this month, Mayor Eric Adams pledged to make the city safer for pedestrians by redesigning 1,000 dangerous intersections across the city.
The NYPD will also be cracking down harder on traffic violations by drivers that put pedestrians at risk as part of Mayor Adams' plans to make the city's streets safer for pedestrians. This includes enforcing penalties for drivers who fail to stop at red lights and stop signs, as well as those who fail to yield to pedestrians on the road.
New York Personal injury lawyer Glenn Herman who, as an avid cyclist…